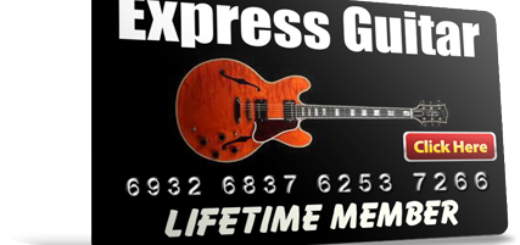 To be honest Express Guitar is probably not one of the best guitar courses but for the price it's not a bad choice. It consists of downloadable PDF books, audio MP3s and YouTube videos. I would say it is mainly for beginners but some more experienced players will find it useful as a refresher.
The course is the work of Mike Hayes, a professional guitarist and instructor, who started playing for country dances, concerts and parties at the age of 13. Over the years he has shared the stage with many top international acts including rock guitarist Phil Emmanuel, jazz great George Golla and renowned Hawaiian guitarist Jerry Byrd. He also has a lot of experience as a tutor having begun teaching others in the late 1970's.
The course is made up of two parts, as follows:-
Part 1 contains an 82 page lesson book and a video section.
The 82 page Express Guitar Manual lesson book which is in PDF format and has a mixture of text, diagrams and chord charts. The lessons include parts of the guitar, tuning the guitar, how to read the diagrams, 12 bar blues, chord progression, how to write a concert pitch chord chart, changing keys (using a capo), how to develop professional motor skills, metronome log sheet, and the minor pentatonic scale. The book also contains chord charts for 50 songs.
The video section is divided into 7 parts which basically show you some of the guitar fundamentals and how to play some songs. The menus titles don't work very well and it can be difficult to work out which menu contains which video.
You can study the videos and lesson book separately.
Part 2 (Mike called it resources) contains:-
Left Hand Players Version
Art of Practice
Blueprint for Successful Learning
Blues Turnarounds & Introductions
Design Your Own Chord Shapes
Everything You Wanted To Know About Guitar Strings
Capo – How The Capo Works
Finger Gymnasium
How To Read TAB
How To Play Real Songs
Red Hot Rhythms
Walking 7th Chords
Suspended Chords
Finger Style Guitar
Ridiculously Easy Guitar Chords
Ridiculously Easy Guitar Scales
Sight Reading Magic
Virtual Band – Jam Trax Blues Club
Personal Trainer – Entrance Level
Lead Guitar Super Chops
Scale Theory 101
Creative Guitar
This part contains audio MP3s, more PDF lesson books and YouTube lessons. I think the "Left Hand Players Version" section is misleading as not entirely for left-handed players. Plus, there are some broken links throughout this part.
The videos of both parts 1 and 2 are in low-definition and enhanced-definition qualities. There are onscreen instructional texts, chord diagrams, pictures, music notations and tabs. The close-up shots of the right and left hands are close and clear enough. But, it would be better presented in a split-screen style.
The lessons are good, detailed and specific for beginners.
Part 2, also contains "Virtual Band – Jam Trax Blues Club" which are MP3 jam tracks. You can choose to jam with a full band, acoustic guitar and drums, acoustic guitar and bass, bass and drums, bass only or drums only.
Mike also offers a 60-day money back guarantee for his course and uses Clickbank, a very trustworthy retailer for digitally delivered products, so if you want a refund it will not be a problem.
If you click through the links on this post and make a purchase, we may receive a commission (at no extra cost to you). Thanks you supporting us in this way!
Click here to see our full Affiliate Disclosure